Back in May I was fortunate enough to be given a Thermarest Neoair Allseason to review by John Kelly.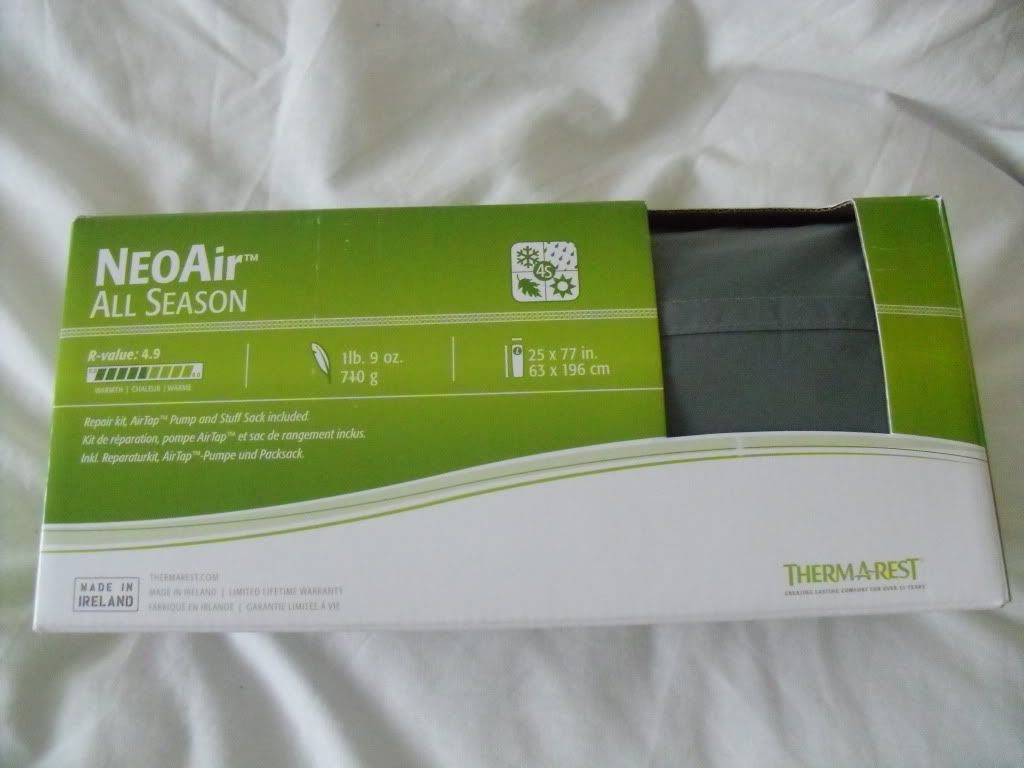 I am going to be honest from the outset, I have always liked the Cascade Designs brands whether it be MSR, Thermarest or Platypus but have endeavoured to be impartial in my review.
Background
I have happily owned a Thermarest Ridgerest since it was brought out many moons ago but decided to plump for a self-inflating mat (SIM) after a friend talked highly of his Alpkit mat. The decision to purchase one myself was confirmed 3 years ago when I also started to hammock camp. I opted for one at the budget end of the market as, for me, the jury was still out on SIMís. Truthfully, I often looked at the cost associated with those in the upper price brackets with a considerable amount of cynicism. The chance to test out one of these mats was obviously a great opportunity to prove a stubborn old fool like me correct, or was it?
Thermarest Neoair All Season
If Thermarest are to be believed the Neoair AllSeason is ďThe ultimate solution to year-round backcountry comfortĒ and in the £100+ price bracket you would really want this mat to do everything. So what are the characteristics of the product itself.
Weight listed: 710g plus stuff sack which is an additional 45g
Dimensions: 63cm x 196cm (This is the regular mat, large and small options available)
Thickness when inflated: 6.3 cm
Packed size: 28 x 12 cm although you can pack it tighter yourself
R-Value: 4.9
In reality these things donít really tell you what the mat actually feels like so what did I like about the Allseason?
Likes
Packed size. The Allseason is undoubtedly very small and only takes up a tiny section of my rucsac. This is fantastic when you consider the mat is designed for 4-season use. It goes without saying that winter gear is typically much bulkier than other gear but not with this product and that will draw many people to this mat, especially those more weight conscience outdoor enthusiasts.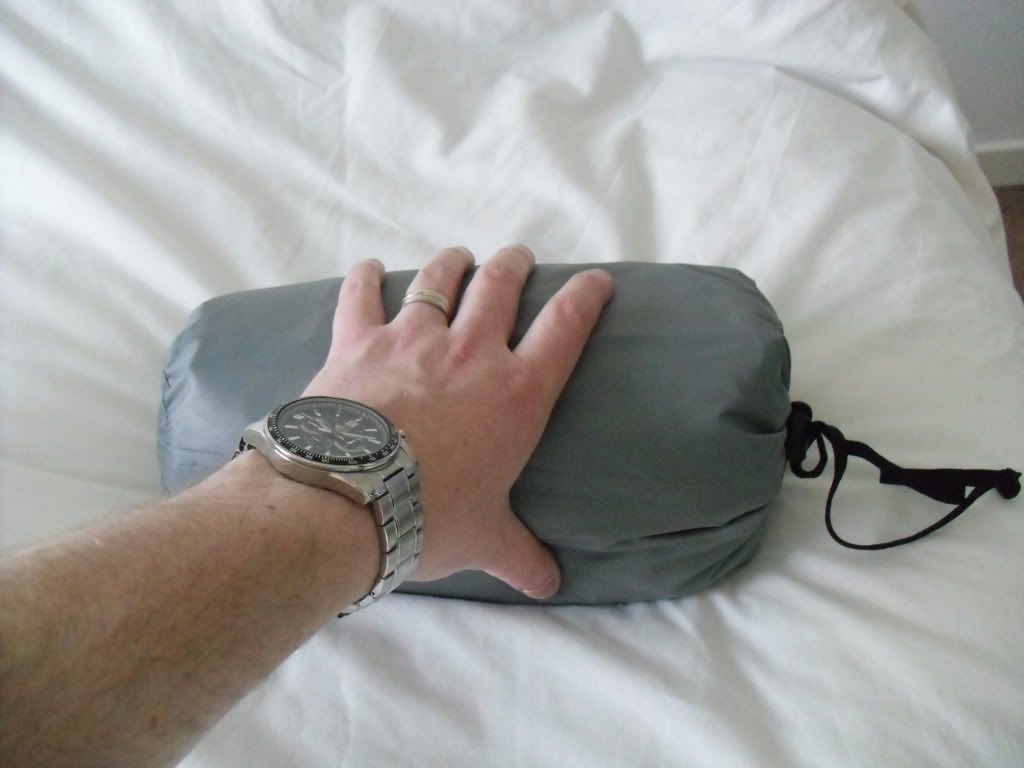 Weight and Robustness. The Allseason is incredibly light at 750g including the stuff sac. I walk as well as canoe so the weight saving is an absolute god send in this respect. As with many lightweight products, the build quality can seem rather flimsy but this canít be said of the Allseason. The materials feel expensive and really well made, after 6 days of being thrown in and out of tents, inflated and deflated the product remained pristine and showed no signs of wear and tear. I have absolutely no qualms with the robustness and build quality of this mat.
Free Repair kit. Previous Neoair models didnít come with a repair kit and this had to be bought for additional money. The Allseason comes with a repair kit included which is a must in my view.
Warranty. The Allseason come with a lifetime warranty against defects in materials and workmanship. A company prepared to stand behind their product and workmanship gets a huge plus as far as Iím concerned. The usual warranty T&Cís apply so should be read in advance.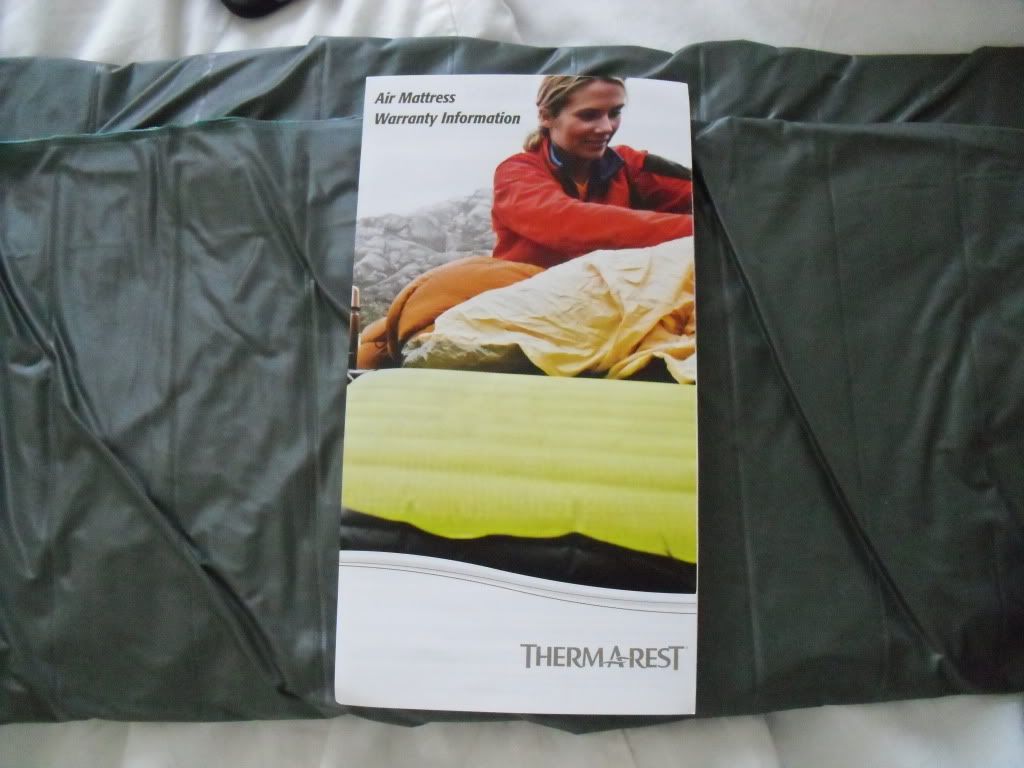 Size. I am 5ft 10 inches tall and this regular size mat is very roomy both in length and width and I believe is really spacious for anyone 6ft 1inches and below. If taller then I would be looking at the larger size allseason.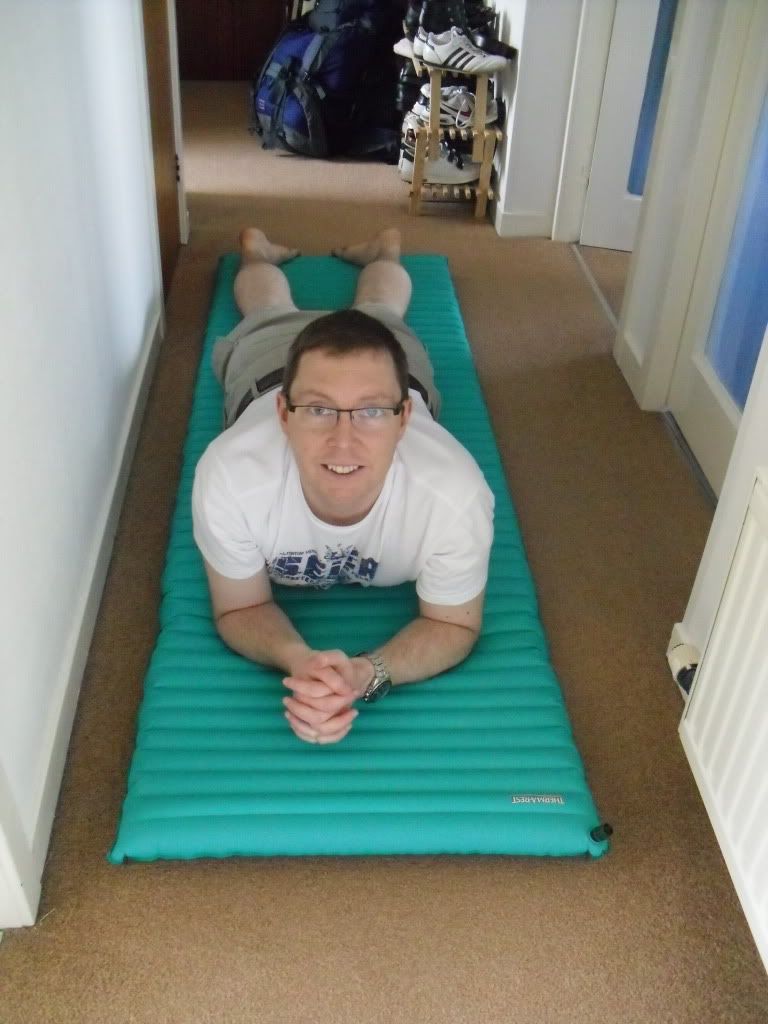 Compared to a King size bed.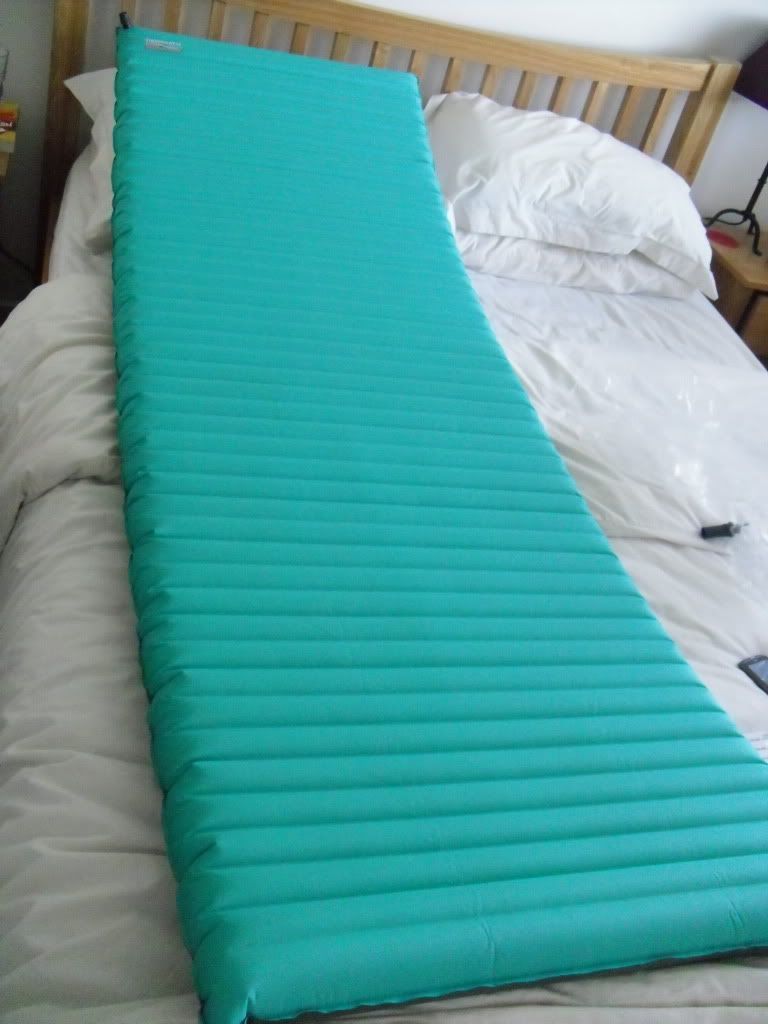 Comfort. When inflated the Allseason is 6.3cm deep and compared with other SIMís I have tried this is by far the most comfortable. The additional depth makes the undulations under the tent just disappear and I have never had such a comfortable nights sleep in a tent. A slight downside to this is that the mat takes considerable effort to inflate by mouth. The mat did not deflate even the smallest amount during any of the 6 nights I slept on it. The real acid test was letting Mrs Chaffinch try it out and anything that gets this response must be comfy!!!
Materials. I have mentioned the mat is light and robust but the choice of materials is excellent. The grey underside of the matt is very sticky and rubbery feeling and the matt sticks like glue to the ground sheet.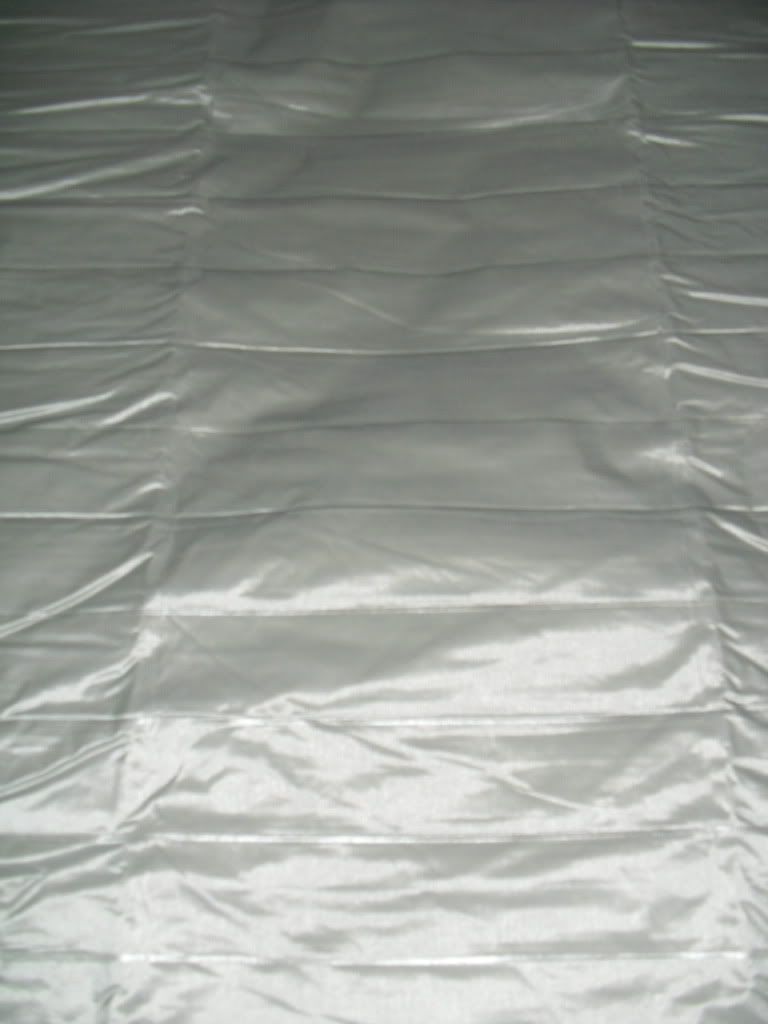 Personally, I am happy with anything that avoids your mat slipping over the groundsheet. Most mats advertise this feature but in reality they usually slide around, not the allseason. Secondly, the upper green ripstop surface of the allseason has a texture that stops excessive sliding from your sleeping bag but also doesnít seem as cold as other mats against the skin which I also liked.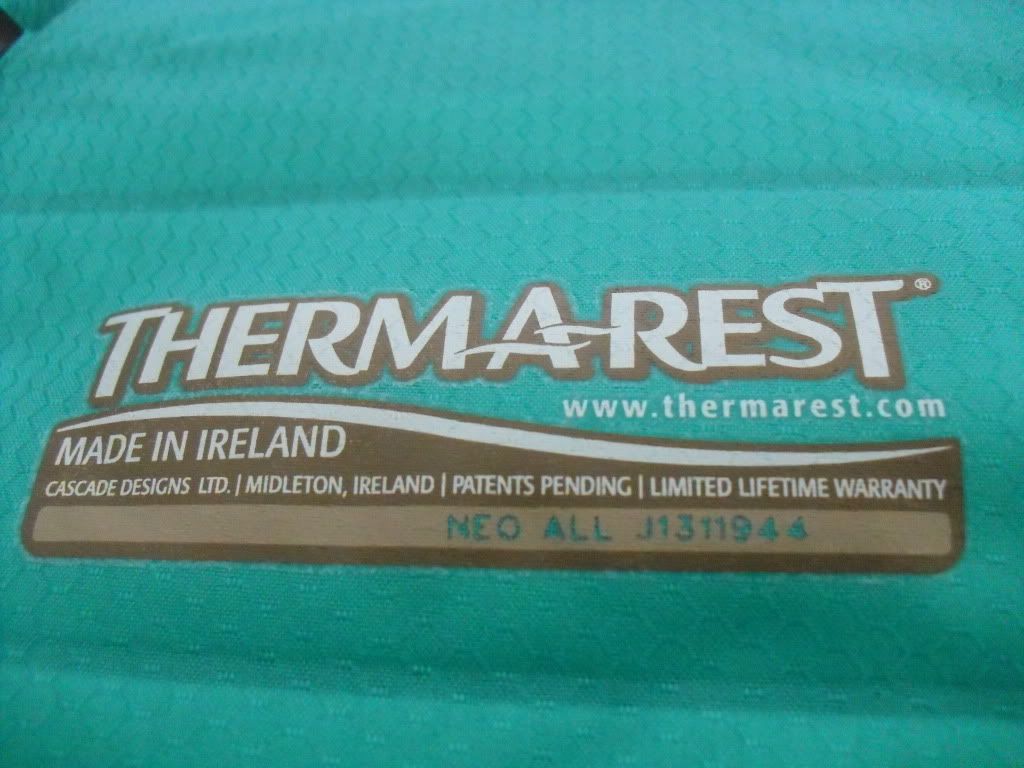 Dislikes
Price. There is no doubting the Allseason is an expensive bit of kit at over £100 and I think that may put many people off, including me in the past. Most people I know however are concerned about performance and value rather than price when it comes to outdoor gear. I previous stated I liked the build quality of this product and it comes with a good warranty so you get long term performance from this piece of kit and therefore value. Add to this argument, that you only ever need one mat all year round, then the Allseason actually becomes a good investment. As canoe enthusiasts, these mats are likely to be used by readers after extended periods of exercise so the value of a comfortable nights sleep canít be overestimated. I only wish I had the opportunity to try the product to see how it performed in all weathers because its performance in the winter months is where the value of this product will become truly apparent. The product does however have an independently verified R-Value of 4.9 making this product one of the warmest in the market.
Stuff sac inflator & Plastic bag inflator. I am a simple man and I like simple tools that perform well in uncomplicated ways. A stuff sac inflator for this product is pointless. Not only is the capacity of the stuff sac limited meaning dozens of refills are required before the matt becomes inflated. The stuff sac has holes in the lining so the mat reaches a critical mass where the bag fails to inflate the matt any more and you need to use the plastic bag or your lungs to top up the pressure for a good nights sleep. Similarly, the plastic bag inflator can be used to fill up the mat but never reaches the same pressure and comfort levels you can achieve with your own breath. While the matt itself is fairly robust the plastic bag inflator is not and I would expect this to become redundant in a very short period of time anyway. I can understand why a stuffsac or plastic bag inflator would be used on a down filled mat where moisture will affect the matís performance in cold weather. The Allseason uses different technologies which are not compromised by the presence of moisture internally. In my humble opinion, keep things simple, the stuff sac and plastic bag inflators are just not needed.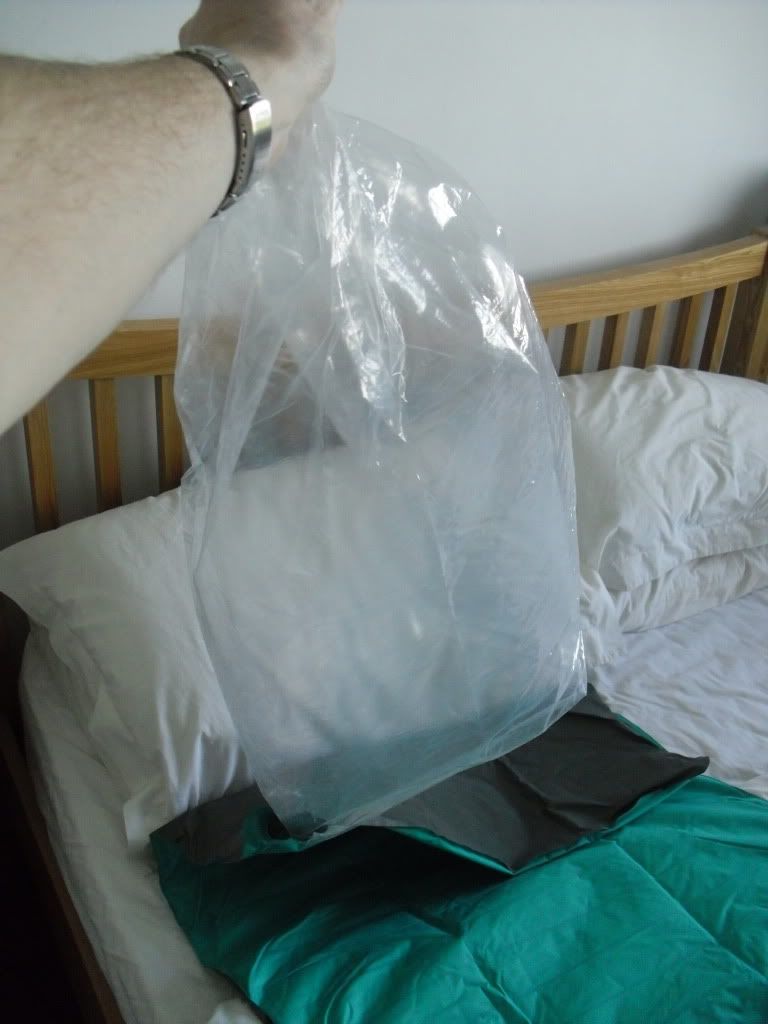 Conclusions
As a self confessed cynic of these mats, I actually like the mat much more than I expected to. It does appear to be ďthe ultimate solution to year-round backcountry comfortĒ as suggested by Thermorest and that really should come as no surprise to those who have used Cascade Design products in the past. The crux of the matter is the Allseason is an incredibly comfortable mat that will assist a great nights sleep after a long day in the canoe and set you up properly for the next days adventure. Excellent materials mean the mat is small and light taking up very little space in your pack yet really robust which, if looked after, will make a fantastic addition to your outdoor kit for many years to come.