A few months ago, I was given the opportunity to try out the new Vango 36LED Eco Lantern. When I took it out the box the thing that strikes you is the solidity of the build despite, like all modern electric lanterns, being man made materials.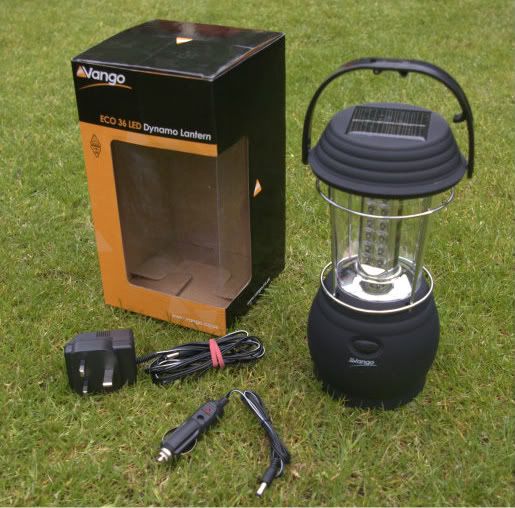 'What it says on the tin (or box in this case)'
Vango Eco 36 LED Dynamo Lantern. New for 2011 the Eco 36led lantern has all the things people have liked on the 36LED dynamo lantern, mains charger, 12v charger & wind up charging but with the addition of the solar panel. Six hours of solar charging will give up to 4 hours of light.
·
Weight: 645g (lamp only)
·
Dimensions (HxW): 25.5 x 13cm
·
2 modes: 18 or 36 LED's
·
3 x Ni-MB Batteries included
·
6 hours solar charging for 4 hours of light
·
2 min of winding = 25 min of light
·
110-240V UK plug and 12V car adaptor
Aesthetically, it looks… like a lantern, very traditional with weighted base containing the on/off switch, batteries, electric charging socket and the fold away winding mechanism. The base is a matt, almost rubbery feel black finish. The 'glass', a polycarbonate material I think, is protected by vertical stainless bars. The top of the unit contains the handle with integral hanging hook and on the top is the solar charging panel. The great benefit of this electric lantern over traditional flame lanterns is the safety aspect especially if you are in a small space or camping with children.
Since I've had it, I've used it a couple of times camping, sailing and in the house during a power outage. With charging options being via the 12v car adapter, 240/110v mains, solar or winding it is very simple to keep charged. Every time it has provided plenty of light on full 36LED's for the time required (3-4hrs) without noticeable loss in light output. As with LED's it is not a 'warm' or smelly light like gas or petrol. I suspect that without a good sunny day you would have to do a bit of winding but hey… it would pass the time and keep you fit! The winding handle is comfortable enough and neatly folds away unobtusively into the body. As with all solar devices you need to remember to place it outside in the sun during the day and not leave it in the tent!
In the carry handle is chunky containing a nifty wee fold out bit with a hook for hanging although could be bigger to make it a bit more secure. Still it worked well at Scout camp the other week hanging from the centre of a patrol tent and lots of kids running around.
All in all a good traditional styled lantern for use at home or camping and can be got for around £25, not bad when you look at the cost of gas or liquid fuel lanterns (not even looking at the fuel costs!) Weight for weight it stands up well against other traditional lanterns being generally lighter when also considering the fuel.
Nice solid lantern and as with a lot of Vango gear it dosen't cost the earth and is reasonably well designed and made!